JOHN DEERE 336 BALER w/THROWER
Description
JD 336 Small Square Baler w/Thrower
Auction Details
Rigging/Removals
T&Cs & Important Info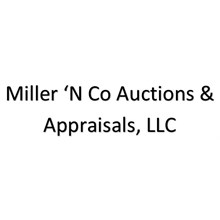 Miller 'N Co Auctions & Appraisals LLC
JD 336 Small Square Baler w/Thrower
Retirement Auction for Rich Buechel's - R.L. Jersey Dairy Farms
Venue Address
N5204 McHugh Road
Chilton
Wisconsin
53014
United States
We are making things easier for you, auction specific shipping information coming soon. For now, please visit the Important Information / Terms & Conditions tab [next tab to the right] for auction specific removal dates, preferred vendors and more.
For general shipping information from the auctioneer please see below:
For Miller 'N Co Auctions & Appraisals LLC delivery information please telephone RICH: 920-849-9406.
Important Information
Retirement Auction for Rich Buechel's - R.L. Jersey Dairy Farms
Auction Date:Thursday, April 8th at 10:00 am CT
Location: Chilton, WI
The Farm…R.L. Jersey Dairy Farms is a local fixture and lovely landmark with its big white dairy barn painted into a hillside south of Chilton. April 6, 1986 the first Jersey cows started their strong
tradition at R.L. Jersey's—
on April 8, the end of that great run for Jersey's & the Buechel family will go to auction.
The Much More….Partial farm equipment line, milking & feeding equipment, feed, and still more, including a selection of equip. from the Estate of Randall (Randy) Geiger, Reedsville,
and from Dan Lemke (cows sold in 2020), Chilton, Wisconsin.
A few starters…Buechel's H&S 5215 Top Shot Slinger Spreader, purchased new in 2019; Rissler Stationary TMR Mixer-new in 2020; GEA ATO Milker Units, new in 2020, and more farm machinery, lots of barn, feeding, & milking equip., along with feed & other dairy farm related items.
Randall Geiger Estate…Agco RT130 MFWD, Dual Entry Cab, Sharp & Very Clean w/only 2546 hrs.;
Hesston 8250 SP Haybine, 14' sickle head, 1161 hrs. & well maintained; Gehl 1085 Forage Chopper;
2 Gruett 6900 20' forage boxes (roofs off) and more.
Lemke's….Lucknow 2420 Portable Vertical TMR Mixer-purchased new w/limited 4 years of use, & super clean! Fiat NH Late Mdl. 900 Forage Chopper, Metal III, Processor, very nice; Fiat NH H7450 Mow Max Discbine, 9' rubber rolls, single point hitch, & small farm clean & good;
NH 785 Skidsteer; Tubeline 3810 Bale Boss 1 QT Bale Processor,
plus much more including some dairy items.
Pictures added as winter thaws. Watch for updates on this great combined auction!
Full Catalog is coming soon!
BidSpotter Customer Service Support Department

Have a question pertaining to the bidding process?

Visit our Frequently Asked Questions!

You can also start a live chat with a Bidspotter Support Representative by selecting Live Chat at the top of Bidspotter.com. More information on our chat system can be found by clicking here.

Customer Support Hours:

Monday – Thursday, 8:00 AM EST – 10:00 PM EST
Friday, 8:00 AM EST – 6:30 PM EST

Email: support@bidspotter.com

Office: (253) 858-6777 Toll Free: (866) 597-2437
Terms and Conditions
Auctioneers Terms and Conditions
By making a bid, Bidder accepts the terms and conditions below and will be bound by them.
Auction Catalog is a guide-only. Miller 'N Co Auctions & Appraisals, LLC reserves the right to group lots, reduce or add quantity to lots, add lots, or delete lots.
Announcements made the day of the sale take precedence over written or advertised announcements, but do not alter, in any way, the terms and conditions of the sale.
For online bidders, a 2% Buyer's Premium will be applied to all purchases.
All purchases must be paid in full the day of sale. After an item has been sold, it becomes the sole responsibility of the purchaser. Purchases will not be released until invoice is paid in full. All items must be removed by date specified for specific auction.
Acceptable forms of payment include Cash, Wire Transfer, Cashier's Check, personal or company check (ONLY IF accompanied by a Bank Letter of Guarantee).
Miller 'N Co Auctions & Appraisals, LLC makes every effort to accurately describe all items, but there is the possibility of error. Miller 'N Co Auctions & Appraisals, LLC is not responsible for any errors or omissions in the description of merchandise.
Please inspect all items before bidding. Miller 'N Co Auctions & Appraisals, LLC makes no warranty, expressed or implied. It is the Bidder's responsibility to determine condition, age, genuineness, value or any other determinative factor of items for sale. All sales are FINAL. All goods are sold "AS-IS" and "WHERE-IS".
The record of sales kept by the auctioneer and clerk will be taken as final.
Please contact Miller 'N Co Auctions & Appraisals, LLC at (920) 980-4999 or millerncompany@aol.com with any questions.
See Full Terms And Conditions