1992 TIMPTE 42' HOPPER BOTTOM TRAILER
Description
1992 TIMPTE 42' HOPPER BOTTOM TRAILER, 96" wide, 66" high x 42'
Auction Details
Rigging/Removals
T&Cs & Important Info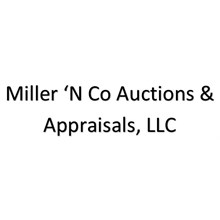 Miller 'N Co Auctions & Appraisals LLC
1992 TIMPTE 42' HOPPER BOTTOM TRAILER, 96" wide, 66" high x 42'
Al-Mar-Way Custom Operators, LLC
Venue Address
6424 NAGEL ROAD
Valders
Wisconsin
54245
United States
We are making things easier for you, auction specific shipping information coming soon. For now, please visit the Important Information / Terms & Conditions tab [next tab to the right] for auction specific removal dates, preferred vendors and more.
For general shipping information from the auctioneer please see below:
For Miller 'N Co Auctions & Appraisals LLC delivery information please telephone 920-980-4995.
Important Information
Al-Mar-Way Custom Operators, LLC
Noting the often quoted saying, "there is nothing so constant as change itself"...
With the start of the 25th year providing ag service to area farms, the on-going loss of longtime customers to retirement, and changes of scale has led to Jim's decision to refocus, re-envision, and refit his operation.
Auction Date: Tuesday, March 31st, at 11:00 a.m.
Location: Valders, Wisconsin
97 JD 8200 MFWD, PS, very clean cab. New 16.9R=30's w/fenders and new 480/80R 46 w/later Mdl. Fenders, Quad remotes, foot throttle, quick hitch, Beacon, swing adj. mirrors,
set of .205 KG Rear weights ( Note—wrong decal (8300) on tractor hood)
JD 8300 MFWD, '96 model, PS, Clean Cab w/instructional seat, foot throttle,
18.4R-46FS(70%) w/fenders, Quad, remotes, Aux. hyds., all LED lights, Big 1000,
Quick Hitch, more. Tractor has approx. 2000 hrs. on OH.
JD 8300 MFWD, '98 model, PS, Nice cab
'94 Peterbilt Pump Truck, Hendrickson Rubber Block Suspension, Cat Dsl., 8-Spd. LL Tranny, 6x6,
Diff. Lock, and sells with CAC 4517 White iron pump, hydro drive swing boom w/winch, pig launcher, contained system w/force feed, Hyd. Drive rear compressor, Sullivan mid-mount JD Dsl. Powered compressor and on JD 8.1 Dsl. Main power unit, & 500 gal. on-board fuel tank w/pump.
'96 GMC Kodiak w/5116 Cat Dsl., Alliston 4-spd. Auto, 2 large side mt. tool boxes, 2-way tail gate, air brakes, sells w/4-way front mt. 12' blade--solid & only 133K miles.
'91 Peterbilt 357 Day Cab Semi Tractor, 13-spd. Cat 3406 powered, 22.5 FS (70%), 2 Line Wet Kit, 296" Wheel base, air slide 5th wheel plate, air ride. Truck has had limited use/miles since new clutch, Tranny rebuild, and rebilt rear end.
Like new Cummins 6.7 WSB 275 hp engine w/only 200 hrs. from new—was a Miller Condor test unit engine,
and sells complete.
GMC 3500 Service Truck, 1T SLE dually, Auto, 4x4, Vortex 454, Crew Cab w/good interior,
sells w/Sun Valley Alum. Service box, add on lighting, light bar,
30 gal. 180 PSI 2-stage gas powered comp. & more.
20' 3-pt. Terradisc 6001—later Mdl., dual fold, VG notched blades, hyd. bypass valve and flow meter.
Cadman 6003 3-pt. hose caddy, hyd. Drive holds 6" x 660' length, Excellent!
(hose sold separate)
RWA 3-pt. manure incorporator, 11 deep till shanks, lights, and flow meter.
Also selling RWA 40' trailer lagoon prop;
Frac tank, LED work lights, nice paint & VG condition!
Badger Mdl. 5200 Manure Tanker 725/65-26 long bar traction rubber (90%), lights, flared fill extention, brakes, front pump rear discharge, solid & sound!
Portable booster pumps—Red unit JD 6.8L Industrial 6068HF475 Dsl. Powered, Cornell white iron pump, self-contained all hyd. Valves, twin fuel tanks, LED lights, rear hitch and pig launcher—VG;
JD R450 SP Discbine w/994 14'6" rotary impeller platform. Torsion rear axle, 480/80R-38's Traction Bar Rubber, LED lighting, buddy seat, sharp w/super paint & clean cab
Gruett 6900 Combo Forage Boxes…All 4-beater, Variable speed w/LH fold down ext.,18" screen ext. & lights.
Versa Bagger ID900N 12' internal density Hi-Cap Bagger, lights, elc. Bag winch—
100% ready to work & well maintained!
Artex 36' Mdl. XTR 3607-8 X-Box forage trailer, alum. Body, hyd. Front fold screen, poly floor w/twin apron, 18" screen ext., 14,700 EW & a sharp aluminum trailer!
Full Catalog Coming Soon! Register Now!
BidSpotter Customer Service Support Department

Have a question pertaining to the bidding process?

Visit our Frequently Asked Questions!

You can also start a live chat with a Bidspotter Support Representative by selecting Live Chat at the top of Bidspotter.com. More information on our chat system can be found by clicking here.

Customer Support Hours:

Monday – Thursday, 8:00 AM EST – 10:00 PM EST
Friday, 8:00 AM EST – 6:30 PM EST

Email: support@bidspotter.com

Office: (253) 858-6777 Toll Free: (866) 597-2437
Terms and Conditions
Auctioneers Terms and Conditions
By making a bid, Bidder accepts the terms and conditions below and will be bound by them.
Auction Catalog is a guide-only. Miller 'N Co Auctions & Appraisals, LLC reserves the right to group lots, reduce or add quantity to lots, add lots, or delete lots.
Announcements made the day of the sale take precedence over written or advertised announcements, but do not alter, in any way, the terms and conditions of the sale.
For online bidders, a 2% Buyer's Premium will be applied to all purchases.
All purchases must be paid in full the day of sale. After an item has been sold, it becomes the sole responsibility of the purchaser. Purchases will not be released until invoice is paid in full. All items must be removed by date specified for specific auction.
Acceptable forms of payment include Cash, Wire Transfer, Cashier's Check, personal or company check (ONLY IF accompanied by a Bank Letter of Guarantee).
Miller 'N Co Auctions & Appraisals, LLC makes every effort to accurately describe all items, but there is the possibility of error. Miller 'N Co Auctions & Appraisals, LLC is not responsible for any errors or omissions in the description of merchandise.
Please inspect all items before bidding. Miller 'N Co Auctions & Appraisals, LLC makes no warranty, expressed or implied. It is the Bidder's responsibility to determine condition, age, genuineness, value or any other determinative factor of items for sale. All sales are FINAL. All goods are sold "AS-IS" and "WHERE-IS".
The record of sales kept by the auctioneer and clerk will be taken as final.
Please contact Miller 'N Co Auctions & Appraisals, LLC at (920) 980-4999 or millerncompany@aol.com with any questions.
See Full Terms And Conditions