(184) SHEETS OF RED OAK VENEER, 49-1/2IN X 98IN, 2 MM THICKNESS, PRODUCT CODE: VE-2.00X2489.2X1257.
Auctioneer has chosen not to publish the price of this lot
Description
(184) SHEETS OF RED OAK VENEER, 49-1/2IN X 98IN, 2 MM THICKNESS, PRODUCT CODE: VE-2.00X2489.2X1257.3-REOK-MX-01-T (VE000015)
Auction Details
Rigging/Removals
T&Cs & Important Info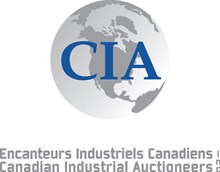 CIA - Canadian Industrial Auctioneers Inc.
(184) SHEETS OF RED OAK VENEER, 49-1/2IN X 98IN, 2 MM THICKNESS, PRODUCT CODE: VE-2.00X2489.2X1257.3-REOK-MX-01-T (VE000015)
PRINTING AND PACKAGING, ELECTRICAL & VENEER OF SURFACES LAVAL - AUCTION #2
Venue Address
5555 ERNEST-CORMIER
LAVAL
Quebec
H7C 2S9
Canada
We are making things easier for you, auction specific shipping information coming soon. For now, please visit the Important Information / Terms & Conditions tab [next tab to the right] for auction specific removal dates, preferred vendors and more.
For general shipping information from the auctioneer please see below:
For CIA - Canadian Industrial Auctioneers Inc. delivery information please telephone 514-395-4444.
Important Information
SURPLUS MACHINERY AND EQUIPMENT OF SURFACES LAVAL AUCTION #2
Auction Date: lots start closing on Thursday, December 5th at 12 Noon EST
BidSpotter Customer Service Support Department
Have a question pertaining to the bidding process?
Visit our Frequently Asked Questions!
You can also start a live chat with a Bidspotter Support Representative by selecting Live Chat at the top of Bidspotter.com. More information on our chat system can be found by clicking here.
Customer Support Hours:
Monday – Thursday, 8:00 AM EST – 10:00 PM EST
Friday, 8:00 AM EST – 6:30 PM EST
Email: support@bidspotter.com
Office: (253) 858-6777 Toll Free: (866) 597-2437
Terms and Conditions
*** A DEPOSIT OF 25% OF WHAT YOU EXPECT TO SPEND IS REQUIRED IN
ORDER
TO BE APPROUVED TO BID *** PLEASE CONTACT US.
TERMS AND CONDITIONS OF SALE
Subject to amendments and modifications announced by the Auctioneer
at the
time of the auction, any person participating in the auction shall be
bound by
the following terms and conditions:
1. A deposit equal to 25% of purchases shall be made at the time of
sale.
The balance of the purchase price must be paid in full before or
immediately
after the conclusion of the auction. All payments shall be by way of
cash,
certified cheque or letter of credit payable to CIACPCC Inc. Deposits on
account
of purchases may be made in advance of the auction and the balance
thereof
will be returned immediately thereafter in the event of non-purchase.
The
Auctioneer reserves the right to put articles back up for auction if
deposit is not
received at or before the time of sale.
2. Taxes arising on a sale, including applicable federal and provincial
sales
taxes, shall be paid to the Auctioneer at the time of sale. Purchasers
claiming
exemptions from taxes shall provide proof satisfactory to the Auctioneer
of
their entitlement to claim such exemption. In the absence of proof
satisfactory
to the Auctioneer taxes shall be paid by the purchaser.
3. All articles will be sold to the highest bidder conforming to the bid
process, provided that the Auctioneer reserves the right to sell articles
by
individual or group lots and ?EN BLOC? as he deems appropriate.
Auctioneer reserves the right to sell on behalf of third parties, its own
account
or on the account of others. Should any dispute arise between two or
more
bidders or as to any bid, the lot in question may, at the Auctioneer?s
discretion, be immediately put up again and resold. The Auctioneer
shall
regulate all matters relating to the conduct of the auction and his
decision shall
be final and binding on all bidders.
4. Auctioneer reserves the right to sell subject to reserve and to
purchase for
its own account and or for the account of others, whether by verbal or
written
proxy, all subject to prior sale.
5. All sales shall be concluded on the fall of the hammer or as
indicted by the
Auctioneer and no purchaser may thereafter revoke his bid. Title to the
lots
purchased shall not pass until payment in full of the purchase price is
received.
6. ALL SALES ARE FINAL, ON
AN
?AS IS ? WHERE IS?, ?IN PLACE?, ?WITH ALL FAULTS? BASIS WITH
NO CONDITIONS OR WARRANTIES, WHETHER EXPRESSED, IMPLIED,
STATUTORY
OR OTHERWISE INCLUDING WITHOUT LIMITATION, WARRANTIES OR
CONDITIONS AS TO TITLE, DESCRIPTION, FITNESS FOR PURPOSE,
QUANTITY,
QUALITY, MERCHANTABILITY, STATE, CONDITION, LOCATION OR
OTHERWISE.
NO SALE SHALL BE INVALIDATED BY REASON OF AND THE AUCTIONEER
SHALL
HAVE NO LIABILITY FOR A MISDESCRIPTION OF ANY ARTICLE OR LOT
WHETHER
CONTAINED IN A CATALOGUE, ADVERTISEMENT OR OTHERWISE.
DESCRIPTIONS
HAVE BEEN PREPARED FOR GUIDE PURPOSES ONLY AND SHALL NOT BE
RELIED
UPON BY THE PURCHASER FOR ACCURACY AND COMPLETENESS. PLEASE
INSPECT ALL ITEMS BEFORE BIDDING. PURCHASERS SHALL BE DEEMED TO
HAVE
RELIED ENTIRELY UPON THEIR OWN INSPECTIONS AND INVESTIGATIONS.
7. No article shall be removed unless paid for in full and all articles
purchased shall be removed within 3 days of the auction date. The
Purchaser
shall be responsible for all costs of removal and shall be liable for any
damage,
including without limitation, any environmental damage, caused during
or as a
result of the removal. Purchasers shall comply with all environmental
laws and
regulations and all requirements established by the Auctioneer for the
removal
or articles, including requirements as to bonding of movers.
8. Where available documents of transfer, including motor vehicle
ownership
documents, which are in the possession of the Auctioneer, will be
provided to
the purchaser within seven days following the auction or as soon
thereafter as
such documents are available.
9. The Auctioneer reserves the right to refuse any applicant the
privilege of
bidding or attending at the auction and may revoke such privilege at any
time.
10. If the Auctioneer is unable to deliver an article sold to a purchaser
due to
fire, theft or any other reason whatsoever, the Auctioneer shall
reimburse the
purchaser for all monies paid to the Auctioneer in respect of the article
and the
Auctioneer shall have no further liability to the purchaser arising from or
relating to such loss, including without limitation any damages for loss
of
profits.
11. Time shall be of the essence. If a purchaser fails to make payment
or
remove goods within the time periods hereinabove provided, the
Auctioneer
may resell the article purchased by auction, private contract or
otherwise, as the
Auctioneer in his discretion deems advisable, and the purchaser shall be
liable
for the shortfall and all costs and expenses, including but not limited to
interest
rates (a minimum of 1.5% per month or 18% per cent per annum), legal
fees,
moving and storage (a minimum rate of $2.00/sq. ft. per month) and
commissions, incurred in such resale.
12. No purchaser may assign, transfer or dispose of his rights in any
article
purchased before he has paid the purchase price in full.
13. As security for the performance of any and all obligations of the
Purchaser
under this agreement (including, without limitation, the payment of the
deposit
referred to in paragraph 1 above), the Purchaser does hereby authorize
the
Auctioneer to debit the credit card account described on tear off. The
Auctioneer may debit from the said account the amount(s) of the
deposit, the
balance of the purchase price and/or taxes due by the Purchaser if said
amounts are not paid in full before, during or immediately after the
auction.
14. The terms and conditions together with any amendments or
modifications
expressly made by the Auctioneer at the time of the auction constitute
all the
terms and conditions with respect to the sale of articles at this auction.
There
are no representations, warranties, terms, conditions, undertakings or
collateral
agreements except as hereinabove provided.
A 18% BUYERS PREMIUM WILL APPLY ON ALL PURCHASES.
See Full Terms And Conditions