LIKE NEW-  NORTHTECH 27'' TOP AND BOTTOM PLANER SANDER LINE.(MFG 2014)   Model NT610PRR-TB25  SER#S2401 TOP UNIT SER# S2402 BOTTOM UNIT  
THIS MACHINE LINE IS -LIKE NEW- THE SELLER BOUGHT THIS MACHINE NEW AS A REPLACEMENT AFTER  THEIR MFG SHOP BURNED DOWN IN 2013 SO THEY BOUGHT IT AS A REPLACMENT MACHINE.
THEY CONTINUED OPERATING THIS SECTION OF THE BUSINESS TILL 2016 BUT COULDN'T GET ROLLING AFTER THE FIRE SO THEY MADE THE DECISION  TO CLOSE THE DOORS. THESE MACHINES ARE -LIKE NEW-
* The description of the above lot by the auctioneer in the language of the auction is the governing description. Any translation using Google Translate is a guide only - its accuracy cannot be guaranteed and it is used at your own risk.
Auction sale details
Day 1 Sale - Woodworking Consignment Auction- Logging, Sawmill, Woodworking & Metalworking Equipment
Venue Address
8076 SR 241
Millersburg
OH
44654
United States
Auctioneer details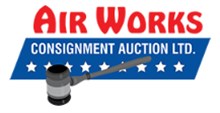 Brought to you by:
Air Works Consignment Auction Ltd.
Ask auctioneer about this lot