United Unite-O-Matic LCH Speedy Tester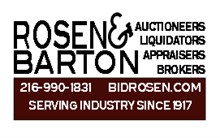 Rosen & Company, Inc./Buddy Barton Auctions
Descrizione
ID TT-1, Serial 79397, check the pics. Good amount of dies to come with it.
Auction Details
Spedizione
T&Cs & Important Info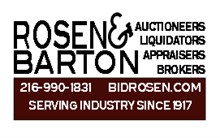 Rosen & Company, Inc./Buddy Barton Auctions
ID TT-1, Serial 79397, check the pics. Good amount of dies to come with it.
Day 1 - 2 Day Absolute Auction - Major Stamping Facility
Indirizzo della sede
1200 W. 58th St.
Cleveland
Ohio
44102
United States
We are making things easier for you, auction specific shipping information coming soon. For now, please visit the Important Information / Terms & Conditions tab [next tab to the right] for auction specific removal dates, preferred vendors and more.
For general shipping information from the auctioneer please see below:
For Rosen & Company, Inc./Buddy Barton Auctions delivery information please telephone 216-990-1831.
Informazioni importanti
2 Day Absolute Auction - Major Stamping Facility
Large, 2 day, All Absolute Auction!!!
Auction Dates: Thursday & Friday, May 23 & 24th 2019 at 9:00 am EDT
Preview Date: Wednesday, May 22, 2019 from 7 am to 4:00 pm EDT
ONLINE BIDDERS:(on internet)
• 13% Buyer's Premium w/Checks/Wire/Cash
• 17% BP for Credit/Debit Cards
Featuring:
Day 1, Thursday, May 23rd
Forklifts/Scissor Lifts: Allis Chalmers 5000 lb max cap dual shorty Lp forklift, Clark triple mast electric forklift (item condition unk), Allis Chalmers triple mast electric forklift (item condition unk), (2) Yale electric dual mast forklift (missing battery, 10k cap), Elwell-Parker 25k max cap platform lift w/ Generator, Raymond electric walk behind forklift, (2) Groce 20' Scissor Lifts, HD fork sets,
Industrial Machinery (surplus area): Thermal Transfer Prod heat exchanger, Vickers Hydraulic Unit, Ingersoll Rand 60 gal horizontal air compressor, electric auto dump hopper, Wilkerson refrigerated dryer unit, Gardner Machine Co Large Dual Ped grinder #2, Bishamon 8k platform Lift, Large GE Transformer (500 KVA), (2) Walker Turner Drill Press w/Procunier attachment, Delta Drill Press w/Procunier attachment, Kalamazoo Ind Cutoff Saw, Powermatic Bandsaw #143, Homemade Uncoiler, Multiple Nilson, Electra, US Tool, Baird & Minister Multi-Slide Units, Foote Burt Drill Press, Wagner horizontal air compressor, vibrating trays and conveyors, Drum Dolly's, Alexson Schuster 16x54 Lathe, Hobart & Exide Forklift Chargers, JL Thomson and Chicago Rivet Co Riveters, Pallet life of bulk steel brackets and transformers, (2) Bishamon EZLoader 30 turn tables, multiple steel drying racks, Vintage Paramount Rolling Die/Parts Carts, Boyer Shultz Challenger H612 hand feed surface grinder, Schrader commercial air bender, (2) ASEA Robotic Welding Arm Assemblies, multiple sets of steel Saw Horses,
Day 2, Friday, May 24th:
This is day 2 of 2. This list will grow daily Day 2 is based more on larger machinery and equipment and some good rolling stock! We will start at 9 am on both days!
Vehicles: 1987 Chevy Corvette (72k Miles, 5 speed, rebuilt motor and transmission, new top, new radio, Black on Black, aftermarket rims and tires, side pipes), Box truck and plow truck info coming soon
Forklifts/Scissor Lift: Hyster all terrain gas forklift (8800 lb max cap, dual fronts), Toyota dual mast Lp forklift (showing 4050 hrs, 185 in reach, tilt), Yale dual mast Lp forklift (12,000 max cap), Clark triple mast Lp forklift (showing 7900 hrs, 6950 max cap), Allis Chalmers dual mast Lp forklift,
Industrial Machinery (Production/Stamping Area): Precision FlexoPress 220 Ton Power Press #SA200-76-42, Warco Press Co. 125 Ton Max Cap Power Press #125-2-54CG, Bliss 150 Ton Power Press #SG2-150-60-30, Minster 75 Ton Power Press #G1-75, Bliss 113 Ton Power Press #176-B, US Industries Co. 75 Ton Power Press #75TONO.B.I., Bliss 220 Ton Power Press #176-B, Niagara 75 Ton Power Press #M75, Bliss 60 Ton Power Press, Precision Welder & FlexoPress Corp 50 Ton Power Press #C50, V & O Press Co 35 Ton Power Press, Minster 45 Ton Power Press Type 0.B.I.Series, HPM Hydraulic Press #BA323, Bliss 50 Ton Power Press #S2-50-60-30, Niagara 60 Ton Power Press #E-60, Bliss 100 Ton Power Press #6100B, Bliss 60 Ton Power Press #C60, Niagara 150 Ton Power Press #E-150, Warco 200 ton power press, MCjay/Warco 200 Ton Power Press with Coil-Matic Feeder, Nilson 4 slide uncoiler unit #S-4-F, Federal Machine & Welder Co, Resistance Welder Type PA-3-12 PROJ, Teledyne-Precision Co, Resistance Spot Welder Type ABA-2, Milford Rivet & Machine Co Riveter #S-63, JL Thomson Rivet Corp Riveter, TaiHei CNC Wire Bender #F-8H-167, Multiple 48" Uncoiler tables, Quincy 70 gal horizontal Air Compressor, Bunting Magnetics Co 19.5 in x 55 in Conveyor System, US Baird 4-Slide #8 Wire Former, May-Fran Manufacturing Electric Conveyor Unit, Reese Wire Straightener Feeds 4S-80 Wire, Power pack industrial conveyor
Industrial Machinery (Wire Line): RoMan Resist Welder #F44655B1CAL, Baird Model 430 4-Slide Wire Forming Machine, RoMan Resist Welder #F4465581CAL, Magnetic Equipment DSC Inclined Conveyor 12 in wide Belt set to 48 in high w/parts hopper, Hannifin Chicago 5 Ton Model F-50 Hydraulic Press w/oiler, Hannifin Chicago 5 Ton Model F-50 Hydraulic Press, Vickers Ring Expander Machine Model# Dg5s4068ce41, Jetline Clamping Mechanisms 1 & 2 for Plasma Welder, Therma-Arm Ultima 150 Plasma Welding Unit, Enerpac P84 Hydraulic Press System,
Industrial Machinery (Sheet metal room): Universal Boring Machine Co Horizontal Boring Machine, Federal Machinery 60" manual press break, Niagara #157 Power Shear, Ikeda Radial Arm Drill Press, DoAll 36" Vertical Bandsaw, ARO M302 Foot Op Spot Welder, Peerless Horizontal Bandsaw, 8x4x1 Solid Steel work platform/welding table w/ Vice,Lincoln Electric Ranger 8 Welder/Generator, Approx 10 Lincoln IdealArc/Reg CV300 Arc Welders w/ LN-7 wire feeders, 2 Lincoln Invertec Stt welders, Thermal-Arc Plasma 150 welder unit, OTC 350xsr wire feed welder, OTC 500 inverter Auto wire feed welder, 2-OTC 350 turbo pulse Inverter Auto Wirefeed Welder, OTC Dyna Auto Xs 200 Mark 2 Wirefeed welder, Lincoln AC 225 amp Arc Welder with Electrical Box,
BidSpotter Customer Service Support Department
Have a question pertaining to the bidding process?
Visit our Frequently Asked Questions!
You can also start a live chat with a Bidspotter Support Representative by selecting Live Chat at the top of Bidspotter.com. More information on our chat system can be found by clicking here.
Customer Support Hours:
Monday – Thursday, 8:00 AM EST – 10:00 PM EST
Friday, 8:00 AM EST – 6:30 PM EST
Email: support@bidspotter.com
Office: (253) 858-6777 Toll Free: (866) 597-2437
Termini e condizioni
Terms: Buying AS-IS WHERE-IS with no contengencies, warranties or returns of any kind.
*LIVE BIDDERS:(in person)
•14% Buyer's Premium w/Credit Cards
•10% Buyer's Premium w/Cash/Checks (4% Discount)
*ONLINE BIDDERS:(on internet)
• 13% Buyer's Premium w/Checks/Wire/Cash
• 17% BP for Credit/Debit Cards
Absentee/Proxy bids accepted when approved by auction company. All checks must clear before titled vehicls leave the premises.
Rosen & Co., Inc is not responsible for any lost, stolen or misplaced items or accidents of any kind. The buyer is responsible for payment once deemed winning bidder.
Wire Instructions:
Key Bank NA, Cleveland, OH
Routing #041001039
Account #350211016489
A $20.00 wire fee is to accompany all wires. Wiring info will be forwarded to all online winning bidders after auction.
Everything sold AS-IS, WHERE- IS, and with all faults without any warranties expressed or implied. Although obtained from sources deemed reliable, the Auctioneer makes no warrantees or guarantees as to the accuracy of the information herein contained. Bidders are encouraged to thoroughly inspect the items in which they intend to bid prior to sales. Absolutely no items will be removed until auction is completed. Subject to additions, deletions, prior sale and confirmation. ALL PURCHASES MADE BE PAID IN FULL ON DAY OF SALE. Buyer Registration is to be completed in full online. A Credit card must be used for registration purposes ONLY.
A 25% cash deposit via wire transfer is required if you are not known to the Auction Firm. Failure to make the required deposit may result in cancellation of bidding privileges. Your invoice will be emailed to you at the conclusion of the auction, and all items must be paid at end of bidding via wire transfer.
In default of payment of invoices in full within the stated time, Rosen & Co., Inc/Buddy Barton Auctions and Auctioneer may retain all funds received as deposit as liquidated damages. Lots not paid for or removed within the time allowed may be resold at public or private sale without further notice. Any deficiencies and other expenses of resale will be charged to the defaulting purchaser. The equipment must be removed by authorized riggers and contractors only. Riggers must present Rosen/Buddy Barton with a valid commercial general liability insurance certificate in a minimum amount of $2,000,000.00 combined single limit per occurrence naming Washington Center, Ltd. as additional insured. Any hydraulic fluid removal and/or oil leaks are the undersigned`s responsibility to remove and clean up. The undersigned purchaser and/or rigger/contractor must take full responsibility for compliance with applicable environmental laws and exercise all reasonable care to ensure that there is no release to the environment or any hazardous wastes or substances as defined in applicable Federal, State, and Local Statues, Regulations, Rules, or Ordinances.
See Full Terms And Conditions