GENIE DUAL PERSONNEL LIFT
Register to bid online
You're registered for this auction
Waiting for registration approval
Registration has been declined
Sorry, decimal input is not valid here. Please input a whole-number for your bid.
Please confirm your bid
You are about to place a bid of USD.
Timed auction:
Bids do not include Tax, buyer's premium or delivery.
By confirming your bid, you agree that you have read and accepted bidspotter.com and the auctioneer's terms and conditions. Confirming your bid is a legally binding obligation to purchase and pay for the lot should your bid be successful.
Please confirm purchase
You are about to buy this lot for
USD.
Bids do not include Tax, buyer's premium or delivery.
By confirming your bid, you agree that you have read and accepted bidspotter.com and the auctioneer's terms and conditions. Confirming your bid is a legally binding obligation to purchase and pay for the lot should your bid be successful.
Proceed With Buy It Now?
We have noticed that your maximum bid is higher or equal to the buy it now price for this lot.
Would you like to discard your maximum bid and proceed with the buy it now option?
Warning
You cannot Buy it now until you are approved to bid.
Please contact the auctioneer (215-426-5300)
Auctioneer has chosen not to publish the price of this lot
Brookville
, Pennsylvania
Description
GENIE DUAL PERSONNEL LIFT
Auction Details
Shipping
T&Cs & Important Info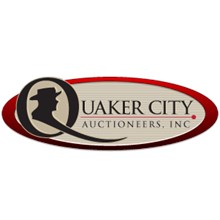 Quaker City Auctioneers
GENIE DUAL PERSONNEL LIFT
GenOn Power Generation Maintenance Facility -- Mechanical Division (Part 2 - ONLINE)
Venue Address
126 Allegheny Boulevard
Brookville
Pennsylvania
15825
United States
We are making things easier for you, auction specific shipping information coming soon. For now, please visit the Important Information / Terms & Conditions tab [next tab to the right] for auction specific removal dates, preferred vendors and more.
For general shipping information from the auctioneer please see below:
For Quaker City Auctioneers delivery information please telephone 215-426-5300.
Important Information
MECHANICAL CONTRACTOR DIVISION including: Rigging Equipment, HVAC & Sheet Metal Tools, Gang, Job & Tool Boxes, VIDMAR Cabinets, Warehouse Equipment and much more!
BIDDING OPENS: Monday, June 17th at 9:00 AM (This 4,000+ lot catalog posting is being prepared and will be posted in segments in the upcoming days.)
3-DAY CLOSING: Monday, June 24th - Wednesday, June 26th (lots and closing times/each day to be specified)
2-DAY INSPECTION: Monday, June 17th (11AM-4PM) and Tuesday, June 18th (8AM-4PM) for both auctions.
TERMS: 13% Buyer's Premium plus 6% PA Sales Tax (Unless Exempt). Fax Certificate to 215-426-6897.
REMOVAL: Thursday, June 27th - Friday, June 28th, and will resume on July 8th. For rigging & machinery removal contact- Hoffman Industrial Co. at (724-977-5287) or email art@hoffmanindustrial.com.
This sale is being sold in conjunction with FL Sales and United Asset Sales.
**PLEASE NOTE: All foreign bidders must first submit a $5,000 refundable deposit in US funds. Contact sheila@quakercityauction.com for wire instructions.
-------------------------------------------------------------------------------------------
Terms and Conditions
We do not accept credit card or debit cards.
We accept cash, certified funds, wire transfer, business or personal
checks with a bank letter or guarantee (payable to Quaker City Auctioneers, Inc.).
CONDITIONS OF SALE
By registering for this auction, you are hereby agreeing to and bound to the terms and conditions stated below. Any deviation or change in terms announced at the auction will supersede any conflicting terms stated below:
1) IDENTIFICATION: All registrants must present a valid picture identification made available when registering.
2) DEPOSIT: Although a deposit may not be requested after each lot purchased, the buyer is responsible for paying a minimum deposit of 25% of his/her invoice to the auction bookkeeper at the conclusion of the sale (or sale day, if multiple days), unless the buyer pays his bill in full.
3) PAYMENT: All purchases must be paid in full via Cash, Bank Check, Wire Transfer or Business Check with a Bank Letter of Guarantee within 24 hours of the conclusion of the sale. If paying the next day, a minimum deposit of 25% of the invoice will be required. Failing to pay this deposit could lead to forfeiture of your purchases.
4) CONDITIONS OF ARTICLES SOLD: All items will be sold AS IS, WHERE IS. The Auctioneers shall not be responsible for the correct description, genuineness, authenticity of or defect of any lot offered for sale or sold and makes no warranty, express or implied of merchantability or fitness for a particular purpose in the items sold.
5) CLAIMS: No claims regarding counts or missing lots, or parts of lots, may be made once items leave the auction site. Buyers are urged to inspect the items for sale. Discrepancies or inadvertant item descriptions may occur, but will not be sufficient reasons to renege on a bid.
6) REMOVAL: No items may be removed without FULL payment of purchaser's invoice. No items may be removed during the course of the auction. If purchaser assigns or hires a third party to move or rig their purchases, Auctioneer must be provided a SIGNED RELEASE by the auction purchaser stating the date, approximate time and name of company removing their equipment. Riggers and buyers removing machinery and equipment must provide Auctioneer with a current CERTIFICATE OF LIABILITY INSURANCE naming Quaker City Auctioneers, Inc. as additional insured.
7) ADDITIONS, WITHDRAWALS, RESERVES or ALTERATIONS: The Auctioneer reserves the right to withdrawal, add, delete or group any lot or item that he deems appropriate. The Auctioneer reserves the right to sell on behalf of third parties or its own account. The Auctioneer reserves the right to see subject to reserve and to purchase for its own account or the account of their parties. The Auctioneer is acting as Agent only and as such is not liable or responsible for the acts of its Principles or Consignors.
8) COMPLIANCE WITH TERMS OF SALE: If purchaser fails to pay for his/her purchases in the time stated he will forfeit any deposits given and the actual purchases. In the course of liquidating and selling off the delinquent or reneged upon buyer's items, the Auctioneer will have discretion over the resale price and new purchaser. In the event of a short fall from the original purchase prices to the resale prices, the Auctioneer may look to legal action to recover the short fall, plus all expenses and legal fees. The legal action will be governed and in accordance with the local laws of the state of Pennsylvania, in the county of Montgomery.
9) DISPUTE BETWEEN BIDDERS: If any dispute arises between Bidders, the Auctioneer may settle the issue as he sees fit by putting the disputed lot up for resale, modifying or changing the lot or removing the lot altogether. The Auctioneer's decision will be final and absolute. The Auctioneer reserves the right to audio, video tape and/or photograph the auction, its participants and/or the premises.
10) RISK TO PERSON AND PROPERTY: Persons attending the sale site during exhibition/inspection, sale or removal of goods, assume all risks of damage or loss to person and property and shall hold Auctioneer harmless for any events or occurrences at said sale. Auction sites may contain poor lighting or uneven flooring which may cause potential injury. Visitors to these sites are there by their own volition and as such assume any and all risks of injury and damage due to onsite hazards or conditions. Neither the Auctioneer nor his principals shall be liable by reason of any defect in or condition of the premises on which the sale is held.
11) The Auctioneer reserves the right to add, delete or modify existing TERMS prior to the start or during the conduction of the sale.
See Full Terms and Conditions