Real Estate - Former Dairy Processing Plant & Warehouse - 33 Acres
Auctioneer has chosen not to publish the price of this lot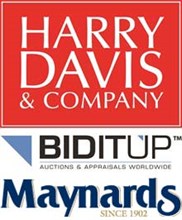 Harry Davis & Company / BidItUp / Maynards Industries
Description
SEE THE VIDEO TOURAbsolute Auction Above $100,000$25,000 Deposit Required for Registration30 Day CloseSite Survey 105 Washington Ave, Seneca, MO 64865140,000 sq. ft. facility85,000 sq. ft. sprinklered warehouse33 acres of of level land, including parking and truck staging areasProximity to Joplin/Southwest Missouri food manufacturing clusterEnvironmentally cleanFederal Opportunity ZoneStructure:Block, brick, and insulated metal panel walls with 12' to 18' ceiling heights55,000 sq. ft. production85,000 sq. ft. warehouse(7) truck docksLinear configurationUtilities:Electric: Empire ElectricTransformer amp capacities includes (1) 2500 @ 277/480 (pad); (3) 167 @ 277/480 (pole); (3) 75 @ 277/480 (pole) ; and  (3) 50 @ 120/240 (pole)Gas: Missouri Gas Energy @ up to 700M cubic ft./dayWater: Large Capacity On Site Well; 6" City Water LineSewer: 8" City Cewer Line with 10" Main
Auction Details
Shipping
T&Cs & Important Info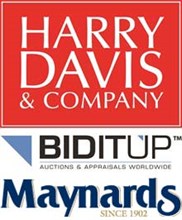 Harry Davis & Company / BidItUp / Maynards Industries
SEE THE VIDEO TOURAbsolute Auction Above $100,000$25,000 Deposit Required for Registration30 Day CloseSite Survey 105 Washington Ave, Seneca, MO 64865140,000 sq. ft. facility85,000 sq. ft. sprinklered warehouse33 acres of of level land, including parking and truck staging areasProximity to Joplin/Southwest Missouri food manufacturing clusterEnvironmentally cleanFederal Opportunity ZoneStructure:Block, brick, and insulated metal panel walls with 12' to 18' ceiling heights55,000 sq. ft. production85,000 sq. ft. warehouse(7) truck docksLinear configurationUtilities:Electric: Empire ElectricTransformer amp capacities includes (1) 2500 @ 277/480 (pad); (3) 167 @ 277/480 (pole); (3) 75 @ 277/480 (pole) ; and  (3) 50 @ 120/240 (pole)Gas: Missouri Gas Energy @ up to 700M cubic ft./dayWater: Large Capacity On Site Well; 6" City Water LineSewer: 8" City Cewer Line with 10" Main
Absolute Real Estate Auction
Venue Address
105 Washington Ave.
Seneca
Missouri
64865
United States
We are making things easier for you, auction specific shipping information coming soon. For now, please visit the Important Information / Terms & Conditions tab [next tab to the right] for auction specific removal dates, preferred vendors and more.
For general shipping information from the auctioneer please see below:
For Harry Davis & Company / BidItUp / Maynards Industries delivery information please telephone 412-765-1170.
Important Information
Absolute Real Estate AuctionFormer Dairy Processing Plant - Seneca, MO
DATE & TIME
January 16, 2019 - 12 pm EST (11 am CST)
LOCATION
LIVE WEBCAST AUCTION
105 Washington Ave, Seneca, MO 64865
INSPECTION
Please call. Contact 412-765-1170
Absolute Auction Above $100,000
$25,000 Deposit Required for Registration
18% INTERNET BUYER'S PREMIUM
30 Day Close
140,000 sq. ft. facility
85,000 sq. ft. sprinklered warehouse
33 acres of of level land, including parking and truck staging areas
Proximity to Joplin/Southwest Missouri food manufacturing cluster
Environmentally clean
Federal Opportunity Zone
Structure:
Block, brick, and insulated metal panel walls with 12' to 18' ceiling heights
55,000 sq. ft. production
85,000 sq. ft. warehouse
(7) truck docks
Linear configuration
Utilities:
Electric: Empire Electric
Transformer amp capacities includes (1) 2500 @ 277/480 (pad); (3) 167 @ 277/480 (pole); (3) 75 @ 277/480 (pole) ; and (3) 50 @ 120/240 (pole)
Gas: Missouri Gas Energy @ up to 700M cubic ft./day
Water: Large Capacity On Site Well; 6" City Water Line
Sewer: 8" City Cewer Line with 10" Main
BidSpotter Customer Service Support Department
Have a question pertaining to the bidding process?
Visit our Frequently Asked Questions!
You can also start a live chat with a Bidspotter Support Representative by selecting Live Chat at the top of Bidspotter.com. More information on our chat system can be found by clicking here.
Customer Support Hours:
Monday – Thursday, 8:00 AM EST – 10:00 PM EST
Friday, 8:00 AM EST – 6:30 PM EST
Email: support@bidspotter.com
Office: (253) 858-6777 Toll Free: (866) 597-2437
Terms and Conditions
Auctioneers Terms and Conditions
TERMS: For bidders located within the United States, online bidding requires a $25,000.00 REFUNDABLE DEPOSIT unless otherwise approved or required by the auctioneer. BIDDERS OUTSIDE THE UNITED STATES MAY BE REQUIRED TO POST AN ADDITIONAL DEPOSIT IN ADVANCE OF THE AUCTION.
Deposits accepted by CHECK or WIRE TRANSFER. Harry Davis & Company does NOT accept credit cards for deposit or payment.
Checks shall be made payable to and sent to Harry Davis & Company, 1725 Boulevard of the Allies, Pittsburgh, PA 15219.
For Wire Transfers call (412) 765-1170 or email Joseph Joyce: JJoyce@HarryDavis.com

To insure approval as a bidder, please make deposit arrangements as far in advance of the auction as possible.

Total purchases to be paid within 48 hours following the auction in cash, cashiers check or wired funds. All purchases must be removed within period announced by auctioneer. All descriptions are believed to be correct, but no guarantees or warranties are made by auctioneer as to accuracy of descriptions. Everything sold on an "as is, where is and with all faults" basis.
18% INTERNET BUYER'S PREMIUM
See Full Terms and Conditions