Full Catalog Coming. Classic Cars, CAT Dozers, Tractors and Trucks
Washington
, North Carolina
Description
Classic Cars, CAT Dozers, Tractors and TrucksOur next CBA WAREHOUSE & CBA SALE YARD #2 auctions have been scheduled for Saturday, September 29, 2018 starting at 10:00 am. This auction will include large trucks, trailers, heavy equipment, classic muscle cars, shop tools & equipment, office furniture, and much more!  AUCTION INVENTORY - Partial listing     LARGE EQUIPMENT & Tractors2015 LS XR3037C compact utility tractor with cab and LL3105 front end loader,      ser# 2230010751, 200 hrs, A/C, 4wd, shuttle shift2005 Cat D6R LGP Dozer, Cab, series II SN# ADEO1040  U/C 90% showing 9037 hrs1998 Cat D6H LGP Dozer, Cab, SN# 8FC00518  U/C 90%  showing 5993 hrs2013 Massimo MSU 500 4x4 ATV side by side w/ dump body ser #DHSNPP405BSCJET-VAC & EVEREST Pipeline inspection unit - trailer mounted in an enclosed     cargo trailer with AC control room, 7000watt generator. Includes robotic camera,      monitors, controls, reel mounted cables, etc. complete self contained unit.diesel powered large volume water transfer pump      LARGE TRUCKS & TRAILERS2000 Volvo Daycab Cummins N14  484,504 miles  vin #4V4MD2JF3YN2566901998 Ford Boom Truck 10 wheeler w/ tag axle   394,734 miles  vin #1FDZS96T3WVA39440 w/ 1997 Fassi Crane F300 SE24 ser # 0094HAULMARK 4'x6' enclosed cargo trailer (like new)      CLASSIC CARS1968 Dodge Charger vin#  XP29F8B214321,  HD code 440 Magnum, 727 auto trans, power disc brakes1968 Camaro "Resto/Mod"  2010 "rotisserie" restoration & modification build using mostly new sheet metal parts and Hotchkis performance suspension upgrades. The car was fitted with a Chevrolet LS1 5.7L fuel injected engine with performance cam. It has a 4LSOE transmission with OD with a "Transgo Kit" and "Yank" converter. It has a 12-bolt rear with 3.73 gear ratio and Moser axles and disc brakes. The interior was fitted with a complete 2000 interior kit including all new seats, dash, instrumentation, A/C, power seat, etc. The current odometer is 39K. VIN#  NCS1001761969 Ford Gran Torino Fastback vin#  9A42H149606 351 Windsor stroked to 400CI,  FMX auto trans, power disc brakes1974 Dodge Challenger vin#  JH23G4B242259, Blue Print crate 408 Stroker, 904 automatic trans, power disc brakes, A/C, center console floor shift1985 Chevrolet El Camino SS - 5.0L V8, factory AC, all original except the car repainted several years ago and has had spray on bedliner. VIN 33CCW80H6FS909409 1901 Merry Olds "Curved Dash" complete car - running and driving.      TOOLS & EQUIPMENT 
Auction Details
Shipping
T&Cs & Important Info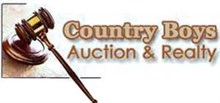 Country Boys Auction & Realty Co., Inc
Classic Cars, CAT Dozers, Tractors and TrucksOur next CBA WAREHOUSE & CBA SALE YARD #2 auctions have been scheduled for Saturday, September 29, 2018 starting at 10:00 am. This auction will include large trucks, trailers, heavy equipment, classic muscle cars, shop tools & equipment, office furniture, and much more!  AUCTION INVENTORY - Partial listing     LARGE EQUIPMENT & Tractors2015 LS XR3037C compact utility tractor with cab and LL3105 front end loader,      ser# 2230010751, 200 hrs, A/C, 4wd, shuttle shift2005 Cat D6R LGP Dozer, Cab, series II SN# ADEO1040  U/C 90% showing 9037 hrs1998 Cat D6H LGP Dozer, Cab, SN# 8FC00518  U/C 90%  showing 5993 hrs2013 Massimo MSU 500 4x4 ATV side by side w/ dump body ser #DHSNPP405BSCJET-VAC & EVEREST Pipeline inspection unit - trailer mounted in an enclosed     cargo trailer with AC control room, 7000watt generator. Includes robotic camera,      monitors, controls, reel mounted cables, etc. complete self contained unit.diesel powered large volume water transfer pump      LARGE TRUCKS & TRAILERS2000 Volvo Daycab Cummins N14  484,504 miles  vin #4V4MD2JF3YN2566901998 Ford Boom Truck 10 wheeler w/ tag axle   394,734 miles  vin #1FDZS96T3WVA39440 w/ 1997 Fassi Crane F300 SE24 ser # 0094HAULMARK 4'x6' enclosed cargo trailer (like new)      CLASSIC CARS1968 Dodge Charger vin#  XP29F8B214321,  HD code 440 Magnum, 727 auto trans, power disc brakes1968 Camaro "Resto/Mod"  2010 "rotisserie" restoration & modification build using mostly new sheet metal parts and Hotchkis performance suspension upgrades. The car was fitted with a Chevrolet LS1 5.7L fuel injected engine with performance cam. It has a 4LSOE transmission with OD with a "Transgo Kit" and "Yank" converter. It has a 12-bolt rear with 3.73 gear ratio and Moser axles and disc brakes. The interior was fitted with a complete 2000 interior kit including all new seats, dash, instrumentation, A/C, power seat, etc. The current odometer is 39K. VIN#  NCS1001761969 Ford Gran Torino Fastback vin#  9A42H149606 351 Windsor stroked to 400CI,  FMX auto trans, power disc brakes1974 Dodge Challenger vin#  JH23G4B242259, Blue Print crate 408 Stroker, 904 automatic trans, power disc brakes, A/C, center console floor shift1985 Chevrolet El Camino SS - 5.0L V8, factory AC, all original except the car repainted several years ago and has had spray on bedliner. VIN 33CCW80H6FS909409 1901 Merry Olds "Curved Dash" complete car - running and driving.      TOOLS & EQUIPMENT 
Classic Cars, Cat Dozers, Tractors and Trucks
Venue Address
1211 W. Fifth Street
Washington
North Carolina
27889
United States
We are making things easier for you, auction specific shipping information coming soon. For now, please visit the Important Information / Terms & Conditions tab [next tab to the right] for auction specific removal dates, preferred vendors and more.
For general shipping information from the auctioneer please see below:
For Country Boys Auction & Realty Co., Inc delivery information please telephone 252-946-6007.
Important Information
Auction Starts: Saturday, September 29th at 10 AM EST
Our next CBA WAREHOUSE Sale has been scheduled for Saturday, September 29, 2018 starting at 10:00 am. This auction will include large trucks, trailers, heavy equipment, classic muscle cars, tractors and a boat.
BidSpotter Customer Service Support Department
Have a question pertaining to the bidding process?
Visit our Frequently Asked Questions!
You can also start a live chat with a Bidspotter Support Representative by selecting Live Chat at the top of Bidspotter.com. More information on our chat system can be found by clicking here.
Customer Support Hours:
Monday – Thursday, 8:00 AM EST – 10:00 PM EST
Friday, 8:00 AM EST – 6:30 PM EST
Email: support@bidspotter.com
Office: (253) 858-6777 Toll Free: (866) 597-2437
Terms and Conditions
YOU MUST REGISTER BEFORE 9 AM EST ON SALE DAY!!!!!
All items are sold on a "AS IS" basis. We have tried to
give you the most correct information possible but do not
warranty anything other than clear title. We have tried to give all vin#s and mileage that is showing on the odometer. We have taken all side pictures to show everything possible.
5% buyers premium with a 850 dollar cap per item.

Payment Methods.
Wiring instructions will be sent to successful
bidders.
If you buy a titled vehicle you must e-mail
mgurkins@countryboysauction.com with the proper information
to transfer the title. The vehicle must be paid for within
the 48 hours and can be picked immediately up upon payment.
Titles will be transfered upon guarantee of funds.
Titles will be guaranteed. No titles may be left open. Pickup of itmes should be within 7 days of sale with scheduled pickup. We will assist in loading.
Please e-mail Mike at mgurkins@countryboysauction.com or
call him at 252-916-1005 for payment or loading concerns.
Thanks,
See Full Terms and Conditions