Description
Auction Details
Shipping
T&Cs & Important Info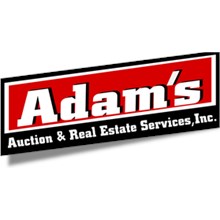 Adam's Auction & Real Estate Service, Inc.
Union Pacific Burnham Locomotive Shop Complete Liquidation - DAY 1
Venue Address
800 Seminole Road
Denver
Colorado
80204
United States
We are making things easier for you, auction specific shipping information coming soon. For now, please visit the Important Information / Terms & Conditions tab [next tab to the right] for auction specific removal dates, preferred vendors and more.
For general shipping information from the auctioneer please see below:
For Adam's Auction & Real Estate Service, Inc. delivery information please telephone 618-234-8751.
Important Information
Terms and Conditions
1. REGISTRATION - All bidders are required to register with auction company prior to beginning of the auction. IF YOU ARE ATTENDING THE AUCTION IN PERSON, DO NOT REGISTER ONLINE!
For ONLINE REGISTRATION & BIDDING, registration is done on this website. Register early to assure your approval for bidding during the auction. Auction registration must be made at least 48 hours before auction starts. By registering, you are agreeing to these auction terms and conditions. Deposit of $2,500 credit card hold or bank wire transfer must be received by auction company 48 hours prior to auction. Note: To obtain wiring instructions or supply your credit information by telephone please call (618) 234-8751 or email adam@adamsauctions.com.
ONSITE REGISTRATION will be done upon arrival at the auction. Identification will be required.
2. BIDDING & BUYER'S PREMIUM - Everything will be sold to the highest bidders for cash, in accordance with the auction company's Bidder Contract, which is available at the site or online. A 9% Buyer's Premium will be added to the final bid price for onsite bidder. A 12% Buyer's Premium will be added to online bids. All Bids are in US dollars. Your bid is a contract: Place a bid only if you are serious about buying the item. Online bidding is a fast process; therefore, do not hesitate when bidding, as bids are taken immediately and are irrevocable. If you are the high bidder, you will enter into a legally binding contract with Adam's Auctions. All sales are FINAL.
3. PAYMENT - ONLINE BIDDER PAYMENT - Successful online bidders agree to make full payment to Auction Company within 24 hours of auction conclusion. Buyers will be notified by e-mail regarding confirmation of successful bidding and all payments for online purchases must be paid in full to Auction Company within 24 hours of auction completion. Accepted forms of payment include bank wire transfer or credit card.
ONSITE PAYMENT - Successful bidders agree to make full payment to Auction Company by the conclusion of the auction. Forms of payment accepted include cash, check, credit card or bank wire transfer. Any check over $5,000 requires a bank letter of credit to guarantee funds. Payment in full must be made before items are removed from the property.
4. RISK - Ownership of items passes upon the fall of the Auctioneer's gavel, or once the auctioneer says "sold" on the sale of an item, and thereafter the property is the Buyer's and neither Seller, nor Auction Company shall be responsible for loss or damage.
5. CONDITION - Every item is sold "As Is, Where Is". Buyer acknowledges having inspected the property and to be satisfied with same prior to bidding. Buyer is solely relying upon its own expertise in choosing to make any purchase. Neither auction company or Seller make any warranties or representations of any kind with respect to items being offered at auction. Auction company assumes no liability for error, omissions, accurate weights or measures, additions and/or deletions in the auction catalog. Items offered may or may not be sold as described and/or photographed in this brochure or auction catalog.
6. REMOVAL & RIGGING - Removal of equipment, rigging, transporting and any and all damages incurred during removal or transport is the responsibility of the buyer. It is buyer's responsibility to secure all equipment to meet all applicable government safety standards in using or removing items purchased.
Anyone, either a buyer or a rigger, who uses a powered vehicle to remove anything from the auction site, will be required to present a certificate of insurance. Removal may begin when the auction has completed and payment in full has been made. Buyer / Rigger is responsible for all waste/oil/substance in the removal of assets, along with all spills that may occur during the removal process.
Wazee Crane is available to handle rigging of large cranes, with the complete dismantling and tear down of the equipment. Wazee Crane can be contracted directly by the buyer with all expense for removal, dismantling, tear down, transport to be the responsibility of the buyer. Wazee Crane can be contacted at (303) 623-1736; (800) 624-1736 or www.wazeeco.com.
7. DEFAULT - In the event the Buyer/Bidder fails to pay for the entire purchase within the time set forth by the Auction Company, and/or fails to comply with any of the conditions or terms of sale, the Seller may retain and/or recover any monies paid as part of its damages and, in addition thereto, items that are not paid for can be resold at public or private sale without further notice. Any deficiency resulting from such resale shall be due to the Auction Company by the defaulting Buyer, together with all charges, fees and expenses including reasonable attorney fees incurred by such resale and enforcement of the obligation hereunder.
8. DISPUTE - In the case of a disputed bid, the item(s) may be resold, but, Auctioneer will use his judgment as to good faith to all claims and Auctioneer's decision is final. Should a dispute arise after the auction, Auction Company's records shall be conclusive in all respects.
9. CONSENT TO JURISDICTION. This agreement and all questions regarding its interpretation shall be governed by and construed in accordance with the laws of the State of Illinois, without regard for conflict of law provisions. Bidder/Buyer expressly consents to personal and exclusive jurisdiction in the courts of the State of Illinois located in St. Clair County.
10. AUCTION COMPANY RIGHTS - This is a privately operated auction; Auction Company reserves the right to refuse admittance to any person(s). No transfer will be recognized from one Buyer to another. Auctioneer reserves the right to withdraw any lot prior to the time of sale of such lot. The auctioneer may break down or consolidate any lot or lots at his sole discretion.
11. INDEMNITY - Buyer/Bidder does hereby indemnify and hold harmless Auction Company, Auctioneer and Seller from any and all damages, claims, or liabilities from injuries to persons or property of any type whatsoever, caused before, during, or after the auction.
At The Request of Union Pacific, they ask that no pictures be taken of any of the buildings. Thank you!.
All rights reserved. Reproduction in whole or in part in any form or medium
without express written permission of Adam's Auctions is prohibited.
See Full Terms and Conditions